Designing Cities Is Designing the Future...
The infrastructure underpinning our daily lives is an essential prerequisite to achieving a future that is safe and comfortable to live in. The Department of Civil Engineering has created an educational environment to enable students to master a wide range of skills, from "soft" design, such as urban planning and disaster prevention planning, to "hard" design, such as the design, construction, and maintenance of lifelines such as bridges and roads. This department trains specialists in urban development and civil engineering who have acquired the practical competence and intellectual vitality to design safe, secure, and comfortable social infrastructure from a broad point of view.
Training students to develop a comprehensive ability to design infrastructure that combines and integrates beauty, function, the environment, and safety.
Preparing comprehensive educational programs across a wide range of disciplines including design, construction, and maintenance of facilities; harmony with the natural environment; and disaster prevention and mitigation.
Producing public engineers who consider the best way to build infrastructure, and civil engineers who play active roles in infrastructure companies involved in energy, transportation, and communication.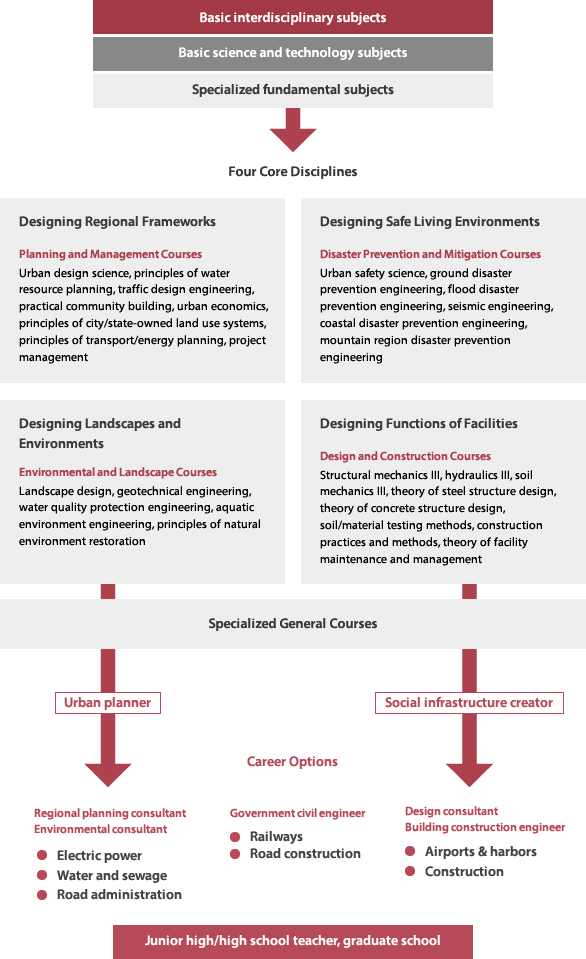 Laboratory Information
Under the theme of preparing for the risks of natural disasters and protecting people's lives and property, this department undertakes a variety of research aimed at achieving urban development that will enable residents to live in safety and comfort, ranging from making structures earthquake-resistant and taking measures against ground liquefaction, to preventing coastal and river flooding.
Further, under the theme of achieving urban development that will enable residents to live in safety and comfort, the department is working in collaboration with local governments and communities to investigate development of new transportation systems and the consciousness structure with respect to urban design, and is also undertaking practical research to create sustainable urban environments such as proposals for compact cities.
In addition, the department is proactively tackling environmental and landscape issues, including doing research to mitigate the effects of heat islands and protect the habitat of bio-communities in rivers.