Academic Environment Supporting Student Learning and Research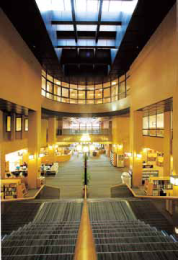 The main library is the starting point of knowledge at the Tempaku Campus.
The building has five floors above ground and one below. The first floor and basement house the book stacks. On the second floor are the circulation desk, group study rooms, and English reader rooms. The second to fourth floors have open-stack reading space, and the fifth floor includes individual study rooms, group study rooms, and media rooms. On the first floor are audio-visual rooms where users can use various materials to hold lectures.
Libraries are undergoing major changes with the digitization of journals and the proliferation of electronic literature in various forms. Meijo University libraries are striving to meet users' needs through the storage and organization of both printed works and digital media (currently 12 databases and 22,000 editions of 17 journals). The Faculty of Pharmacy and the Faculty of Urban Science each has its own dedicated library, located on the Yagoto Campus and Kani Campus, respectively.
Library Hours
| Library | Monday-Friday | Saturday | Sunday & Holidays |
| --- | --- | --- | --- |
| Main Library | 9:00-22:00 | 9:00-21:00 | 10:00-17:00 |
| Meijo University Pharmaceutical Library | 9:00-20:00 | 9:00-17:30 | Closed |
| Meijo University Urban Science Library | 9:00-18:00 | Closed | Closed |
Library Closed
Sundays during university breaks (August, September, February, March) and on public holidays.
(Note: Excluding branch libraries.)
During fixed university breaks in summer and winter.
During other sudden closures when deemed necessary.
Number of Books
| Library | All books | Open-stack books |
| --- | --- | --- |
| Main Library | 878,498 | 125,772 |
| Meijo University Pharmaceutical Library | 60,312 | 39,154 |
| Meijo University Urban Science Library | 83,054 | 71,387 |
| Total | 1,021,864 | 236,313 |