The World, Japan, Regional Communities, and
You--Understanding the Economy Enables Us to Foresee the Future
Economics is always a factor of the times, pervading every aspect of society. It can even be said that economics is the very foundation of any society.
Now that domestic and global economies have reached a huge turning point, it is the mission of economic science to resolve various issues.
At the Faculty of Economics, students are given numerous opportunities to feel, think, and experience. Studies are not limited to theories written in textbooks; they include global, domestic, and regional developments.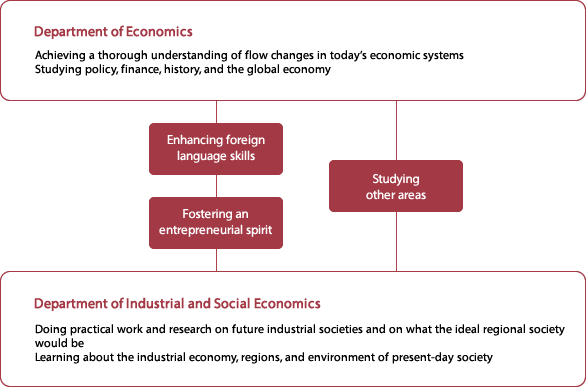 Departmental Information
In addition to covering basic economic principles, this department explores such subjects as policy, finance, history, and the global economy. Students will examine issues of present-day society along with the current state of and theory for reform.
To foster creative human resources who can envision the ideal industrial and regional societies of the future, this department teaches students functions and methods for examining the industrial economy that supports society today. Students will also study the latest developments in economics.