University research labs are the source of innovation that powers industry.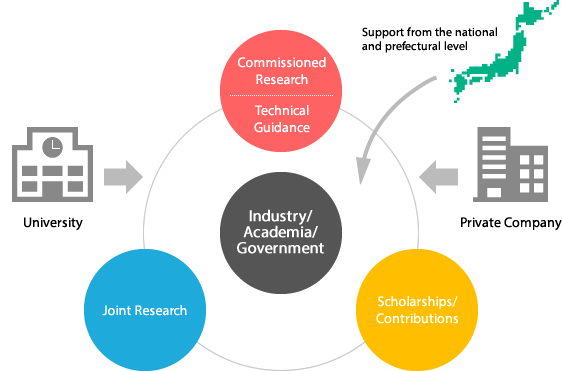 Do you think that the idea of joint research is attractive but that approaching a university seems daunting, or that, because you're a small business, it might be financially impossible?
Rest assured, there is absolutely no reason to hesitate. The research centers of Meijo University want to help your company differentiate itself from the competition and enhance your competitiveness. Collaboration among industry, academia, and government not only leads to the development and commercialization of innovative new products, but exchanges with universities also offer a variety of benefits, including cultivating talented personnel, accumulating state-of-the-art know-how, and generating a positive impact on your brand in terms of sales and marketing, and its synergistic effect is immeasurable.
Short-term research under limited budgets is also possible. Why not see about expanding the technical capabilities and potential of your business working together with the research laboratories of Meijo University?
Benefits of Industry/Academia/Government Collaboration
Development of technologies and products that are difficult to implement on one's own
Introduction of advanced specialized technologies, know-how, and expertise
Use of state-of-the-art facilities
Nurturing of human resources
Making connections with new networks of contacts
Outside Academic Research Funding Data
In fiscal 2012, Meijo University received approximately 620 million yen in funding from outside sources (national government and private companies).
This includes funds from competitive research funding systems run by various government agencies.
Explanation of Terms
Grant-in-Aid for Scientific Research:
Research funds to promote academic research managed by Japan's Ministry of Education, Culture, Sports, Science and Technology (MEXT) and the Japan Society for the Promotion of Science (JSPS).
Large-Scale Commissioned Projects:
Funds commissioned under competitive funding from various government agencies.
Outside Grant Funding:
Grant money mainly from foundations received for the purpose of improving and achieving research objectives.
Scholarships/Contributions:
Contributions whose usage applications are primarily earmarked for research activities.
Commissioned Research:
Research carried out under contract from private companies as well as from government agencies and public institutions.
Joint Research:
Research for which the services of researchers and research expenses have been accepted from a private company or similar entity, conducted jointly by university faculty on issues held in common by researchers from said private company.
FY 2012 Research Funding Data
Unit: thousands of yen
| Type of research funding | Number of cases | Amount |
| --- | --- | --- |
| Grants-in-aid for scientific research*1 | 121 | 300,486 |
| Health and labor sciences research grants*1 | 2 | 26,269 |
| Large-scale commissioned projects*1 | 40 | 166,720 |
| Outside grant funding | 23 | 34,913 |
| Commissioned research | 41 | 29,521 |
| Scholarships/contributions*1, *2 | 19 | 20,360 |
| Joint research*1, *3 | 32 | 44,332 |
| Total | 278 | 622,601 |
*1 Includes indirect costs and general and administrative expenses
*2 Includes contract services
*3 Includes use of LED Joint Research Center