From Nagoya to the world. A Source for Leading-Edge Technology.
Meijo University Supports Japan's Science, Technology, and Manufacturing
Features of the Chubu Region
The city of Nagoya, where Meijo University's main campuses are located, is one of Japan's three major metropolitan areas. Here, some 2,267,000 people live in an area of approximately 326.45 square kilometers. The city is also centrally situated in Japan, and offers a full complement of modes of transportation to and from those cities. Moreover, Chubu International Airport (Centrair) in the southern part of Aichi Prefecture serves as the Chubu region's gateway to the world.
The culture of manufacturing has long flourished in this region, which gave rise to Toyota Motor Corporation and other stalwarts of the automotive industry and has continuously led Japan in the monetary value of product shipments for more than thirty years. In addition to large numbers of companies in the manufacturing sector, enterprises in such fields as trade and agriculture are also fierce competitors, leveraging their outstanding manufacturing strengths and technical expertise.
Meijo University Supports Japan's Culture of Manufacturing
Located in the Chubu region and comprising nine faculties, including the Faculty of Science and Technology, Meijo University is home to large numbers of outstanding researchers who continually announce leading-edge breakthroughs in fields of research and education. These varied endeavors earn high acclaim and expectations from the world.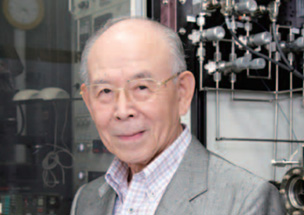 Professor Isamu Akasaki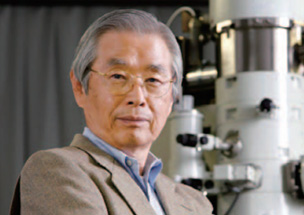 Professor Sumio Iijima
An Environment Making Leading-Edge Research Possible
Laboratory Building II, completed in March 2013 at the Tempaku Campus, comprises one below-ground and four above-ground floors with a total floor area of 19,980 square meters. Provided with rooms for a wide range of student experiments and analyses, this building also holds the laboratories and experimentation rooms for the various departments of the Faculty of Science and Technology. The spacious atrium makes the building bright and airy.
New Building No. 2 at the Yagoto Campus was completed in November 2012, with six above-ground floors and two basement levels for a total floor area of 7,533 square meters. The experimental radioisotope and animal testing facilities are located in the basement, and the first floor holds the Analysis Center and its many analysis instruments. Faculty and student laboratories and other experimental rooms are located on the second through sixth floors.
In 2011, the Innovative Science and Technology Building was built, which has a building area of 1,483 square meters with three stories. The LED Joint Research Center is located on the first floor, including a class 10,000 clean room, epitaxial growth room, and characterization room. Joint researches with industries have been implemented on development of regional industries and economies.