/ニュース

University Professor Sumio Iijima met with reporters before announcement of Nobel Prizes (Sep.10, 2020))
37 persons participated from 16 companies including Zoom for avoiding three Cs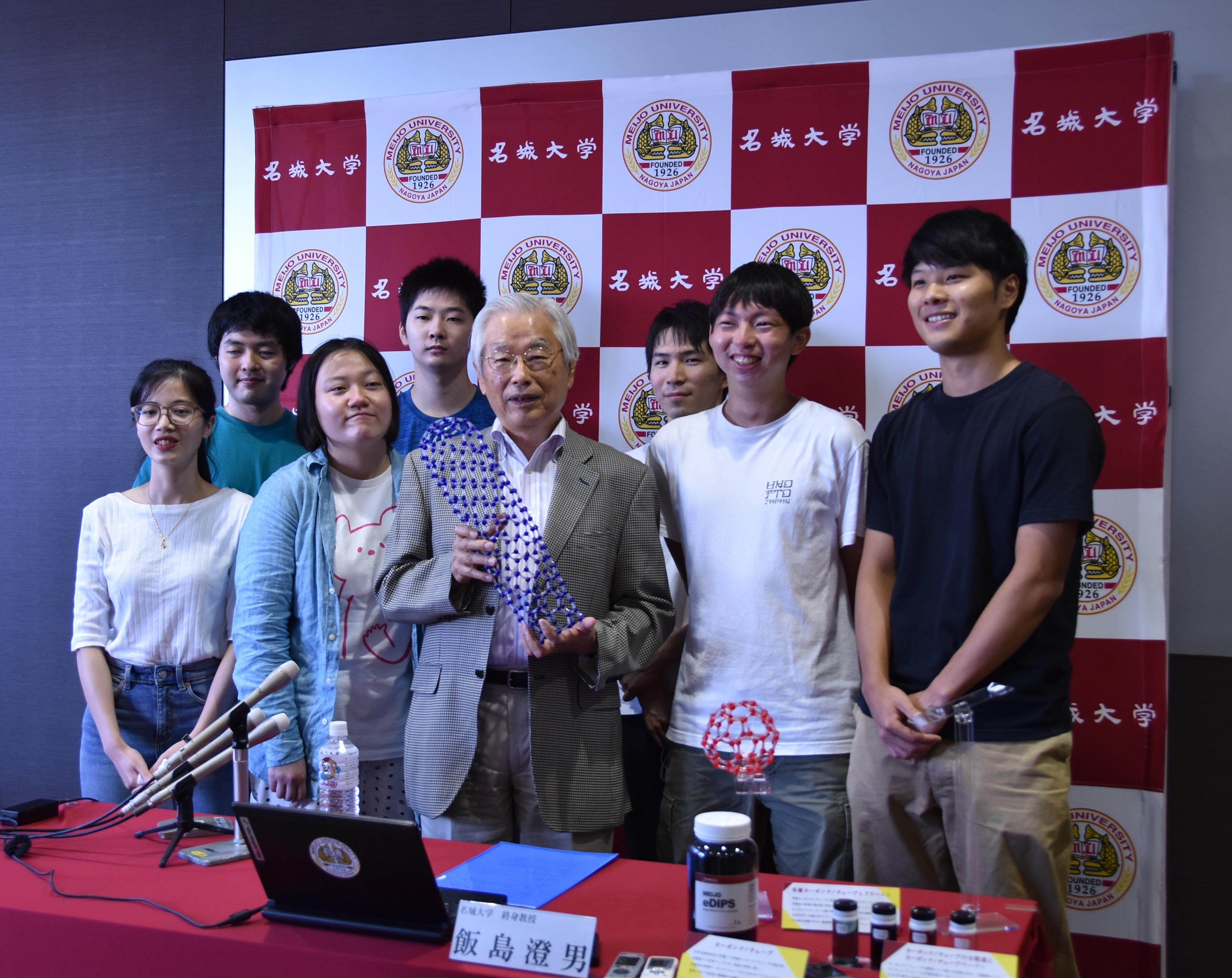 University Professor Sumio Iijima surrounded by graduate students, who had taken lectures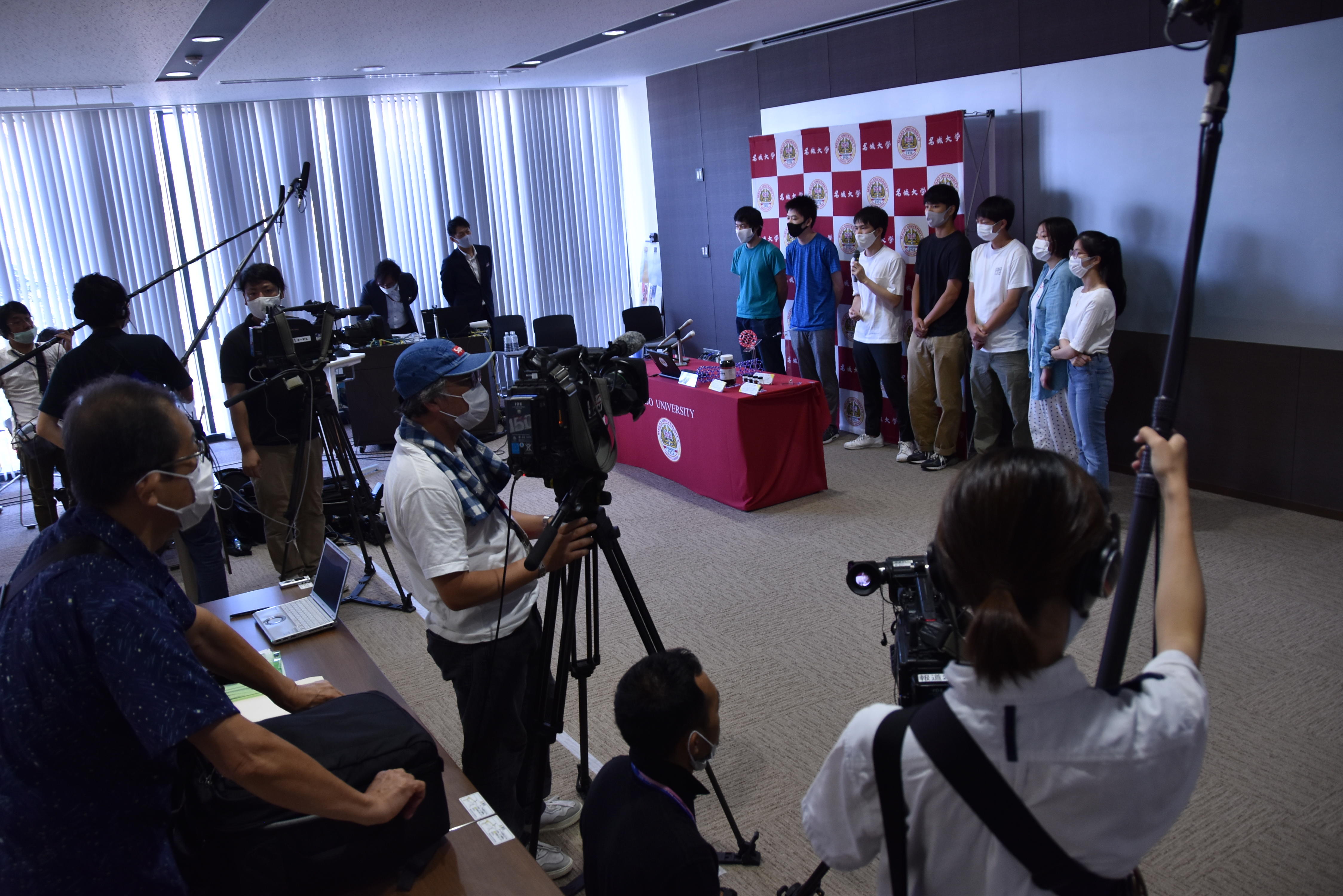 Graduate students interviewed
Nobel Prize winners in 2020 will be announced in physics on October 6 and in chemistry on October 7. In this university, following University Professor and Distinguished Professor Isamu Akasaki, a winner of the Nobel Prize in physics in 2014 and Professor Akira Yoshino of the Graduate School of Science and Technology, a winner of the Nobel Prize in chemistry in 2019, University Professor Sumio Iijima (81 years old), the discoverer of carbon nanotubes (CNTs), is expected to win the Nobel Prize in physics or chemistry.
University Professor Iijima met with reporters and talked about recent events in the Tempaku Campus on September 10. It was a third meeting with reporters before the announcement of Nobel Prizes following ones in 2018 and 2019. This year, they tried to avoid the three Cs to prevent COVID-19. The number of reporters who attended the meeting was limited and remote participation by means of a web conferencing system "Zoom" was allowed, so that 37 persons participated from 16 companies.
Graduate students, who had taken lectures, talked about personality and feedback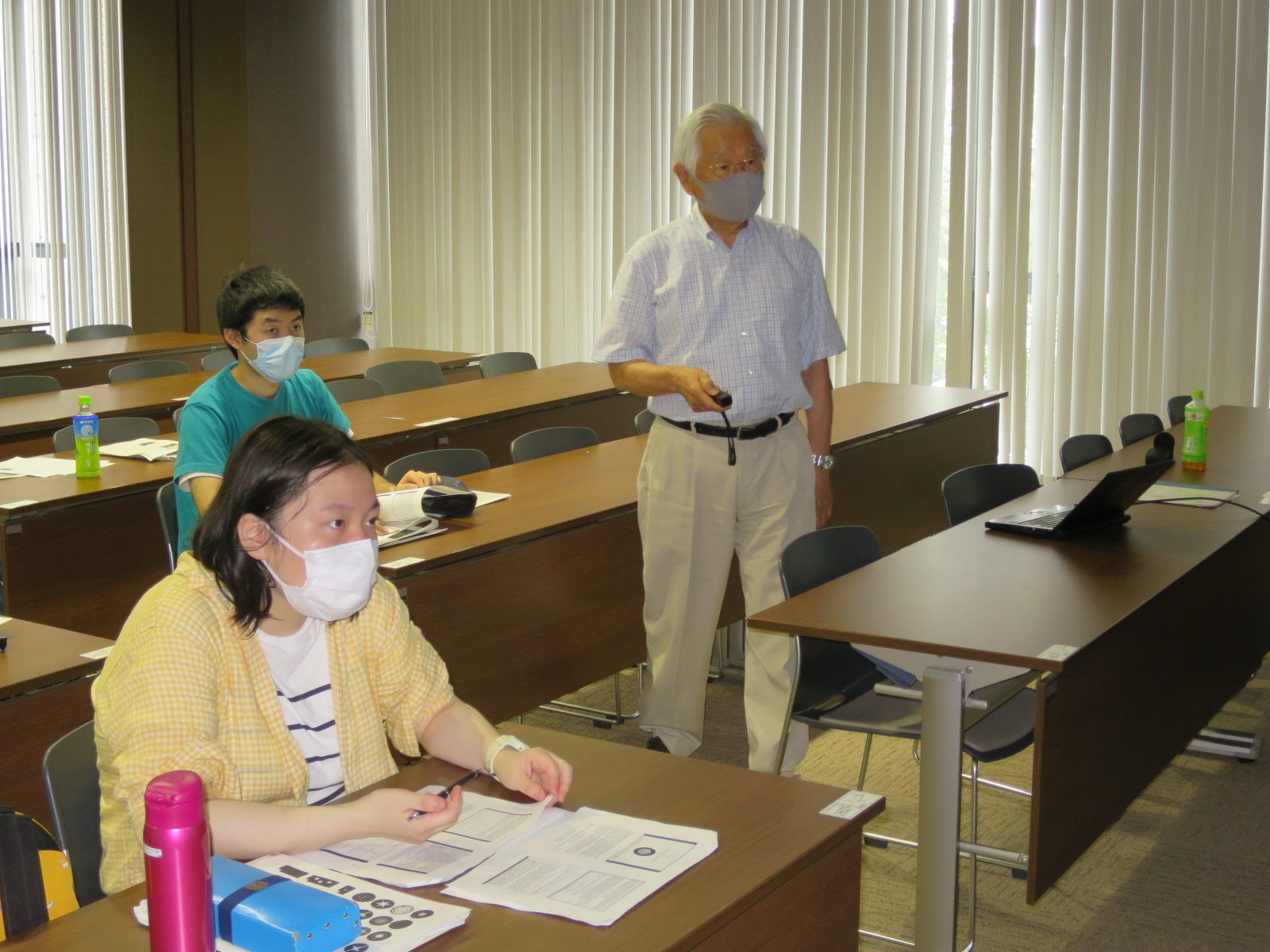 Photo of lecture on July 23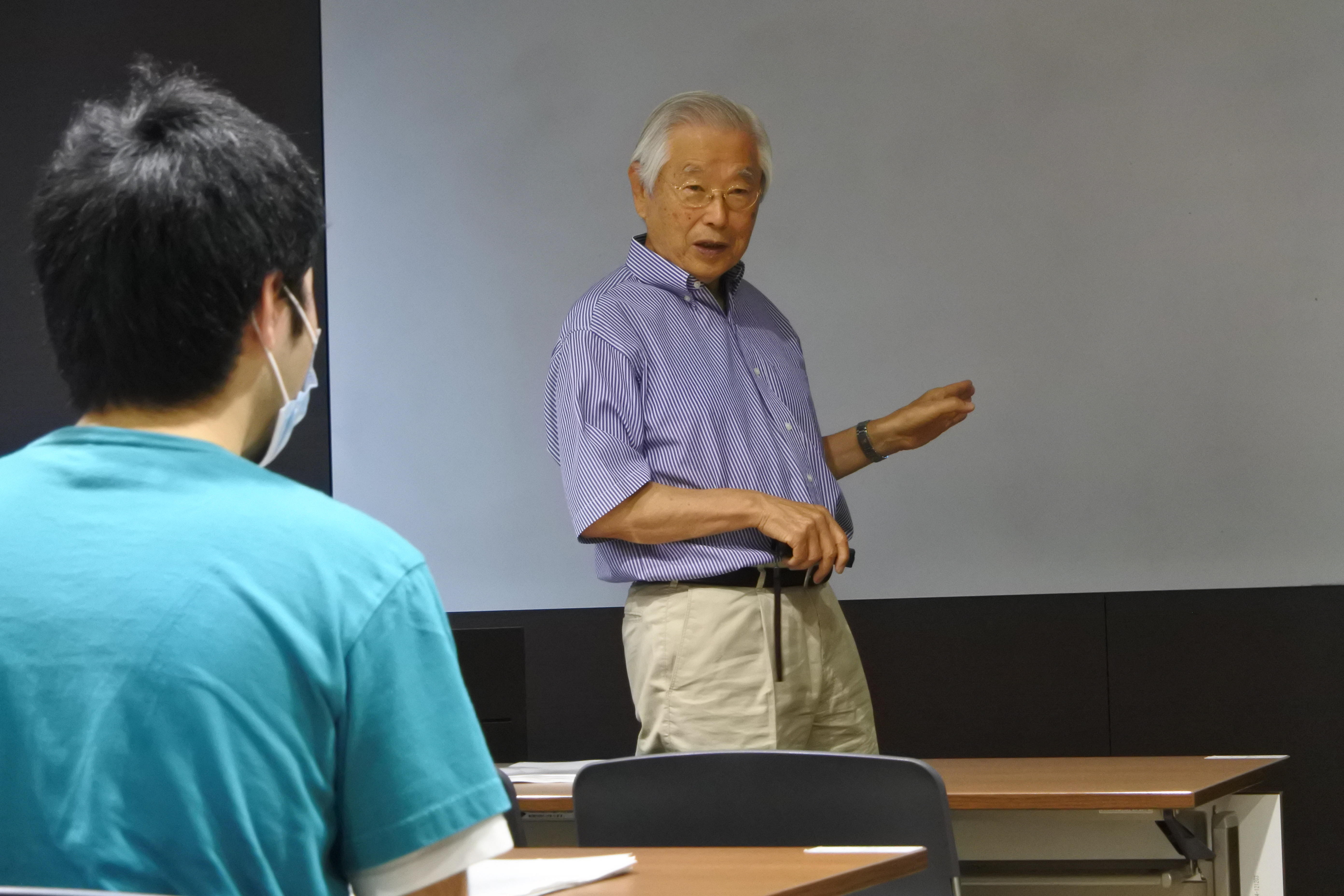 Photo of lecture on July 27
University Professor Iijima gave lectures in FY 2020 for the first time in three years, in which "special lectures on nanostructure science" were given face-to-face to first-year master's degree students at the Graduate School of Science and Technology in the first semester.
Asked about the impact of the coronavirus, University Professor Iijima said, "Many lessons were given on line, but they are no different from educational courses on TV and radio. I prefer to contact directly with students, and ventured to give face-to-face lessons collectively." In addition, he said, "I contact with young persons with a feeling of being on the same starting line." as a fellow researcher.
Seven graduate students, who had taken the lectures, attended the meeting and were asked by the reporters about the impression of University Professor Iijima and feedback on the lectures.
Mr. Ryota Sugino (majoring in applied chemistry) said, "I learned about a stance as a researcher and attitude to try anything with curiosity." If University Professor Iijima wins the Nobel Prize following Professor Yoshino, this will be a remarkable accomplishment for two consecutive years for this university. He said, "I hope Meijo University will be revitalized." with expectation
Ms. Yui Tanaka (majoring in applied chemistry) said, "He is good at seeing how students are doing to explain difficult things simply. When I went to the laboratory to ask questions, he treated me kindly. I felt he was warm-hearted."
Traveling by road bike even now
University Professor Iijima answering questions. Right front: Model of carbon nanotube

University Professor Iijima in photo session
In the meeting, University Professor Iijima took up the number of citations after he had announced the discovery of CNTs in the journal "Nature" in 1991 as a topic. He introduced the fact that according to indices called Google Scholar Citations, in 2014, it reached 23,000 cases and was the world's 31st at the time and larger than that of the discovery of DNA (the discoverers won the Nobel Prize in physiology or medicine in 1962) and in 2020, it increased to 51,000 cases. Also, he stressed the fact that they are research objects still popular even after 30 years have passed since the discovery.
University Professor Iijima is known for researching carbon samples made at Meijo University using electron microscopes at NEC, his place of work at the time, and leading it to the discovery of CNTs. He emphasized the meaning and high level of Japanese corporate research with an eye on the fact that Professor Yoshino, who is also a researcher at Asahi Kasei Corporation, developed lithium-ion batteries as a corporate researcher.
Also this year, his hobbies were took up as a topic. University Professor Iijima is known for his many hobbies such as mountain climbing, flute performance and cycling by road bike but he said, "A flute is placed in my laboratory but I rarely touch it." However, he happily said, "Even now, I keep on running for 42 to 43 km by making a round trip between my house in Mizuho-ku, Nagoya-shi and Aichi Pond in Togo-cho, Aichi Prefecture and running around a pond by road bike in addition to commuting by bicycle."